Crustless Spinach Ricotta Pie
22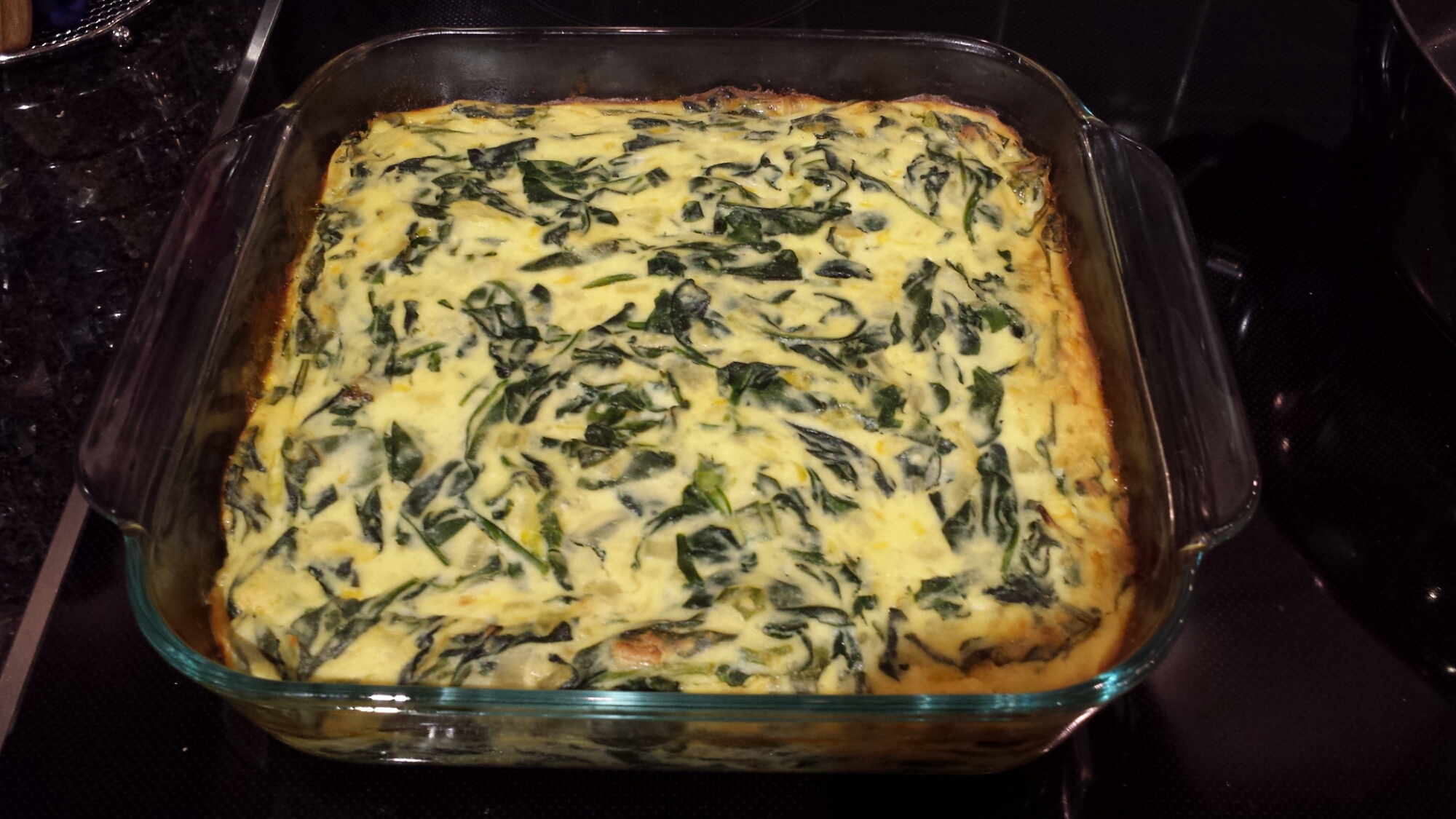 This recipe was a happy coincidence. Yesterday we attended a bat-mitzvah luncheon where a spinach casserole of some sort was served that my husband happily devoured second (and possibly third) helpings of. Then today, as I was sifting through the weekly coupons we receive from our local grocery store – I noticed one for boxed salad greens and another for ricotta. The conclusion seemed self-evident: make spinach ricotta pie – except without the actual pie aspect since buttery crusts don't agree with me (it's sad, I know). My husband seemed thrilled at the prospect of eating more spinach-y cheesy yumminess. It was super easy to make – I'm excited to add it to my repertoire.
Ingredients:
1 lb of fresh baby spinach (or regular spinach chopped)
1.5 medium onions
2-3 scallions
3 eggs
1/2 cup shredded cheese of your choice (I used Monterey jack but mozzarella or cheddar would work)
2 cups ricotta (I used part skim)
3 tbsp all purpose flour (I think you could use gluten free just as well)
Salt and pepper
Olive oil for sauteeing
Butter or margarine for greasing baking dish
Preheat oven to 375F. Grease a 8×8 (or 9×9) glass baking dish.
Dice onion and scallion. In a large deep sauté pan, sauté over medium heat in olive oil for about 5 minutes until soft and translucent. Add spinach in batches until all fits and continue rotating in pan until spinach wilts. Season to taste with salt and ground pepper. Once wilted remove from heat and cool. You can spread it on a plate to facilitate cooling.
In a large mixing bowl, whisk 3 eggs. Add in ricotta and flour and whisk until combined. Add a few pinches of salt. Mix in shredded cheese. Once spinach mix is cooled, fold into egg-cheese mixture until evenly distributed.
Pour into prepared baking dish. Bake ~40 minutes until sightly golden around edges and set in the middle.
Serve warm or room temperature. Enjoy!