Adventures in Exotic Game Meat: Frog Legs
11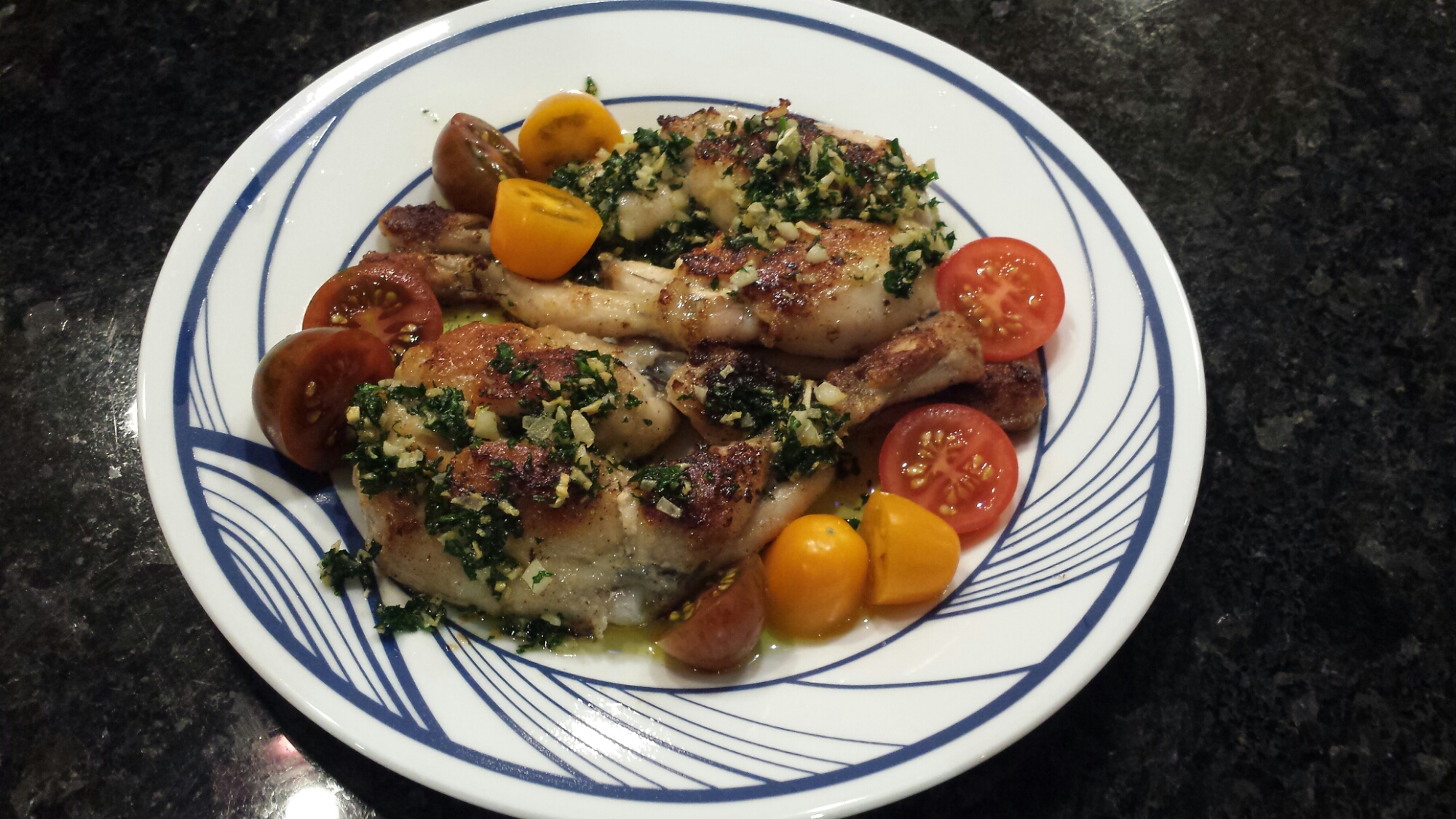 My husband, for some time now, has been fascinated with exotic meats and keeps fantisizing about eating lions, and camels, and bears (oh my). So now that we were on vacation, I finally made good on my promise to be his accomplice in this adventure. We made our way over to possibly the only place in the area that carries such unique provisions – Savenor's in Cambridge (a butcherie frequented by the great Julia Child). The selection changes frequently and on any given day you can find more familiar meats such as venison, veal heart, and boar, to the utterly exotic camel, turtle, rattlesnake, and iguana (for a whopping $40+/lb). For our first outing, we settled on slightly more conventional options – frog legs, and venison chop (more on that some other time). After combing the internet for frog leg recipes, I decided on a simple pan fried preparation with an herb sauce.
While we are glad we finally took the plunge, we can't say we were thrilled with the taste or texture. The meat's consistency is that of a dry fish, and the taste is reminiscent of chicken. Nevertheless – it was an experience all the same and we are excited to share it with you (should you dare to venture there yourself).
Ingredients:
2 pairs frog legs
Milk for soaking
Flour for coating
Salt
Chipotle pepper powder (optional)
2 cloves garlic – minced
Handful fresh parsley – chopped
Olive oil for sauteing
Extra Virgin olive oil for sauce (or butter if preferred)
Cherry tomatoes for garnish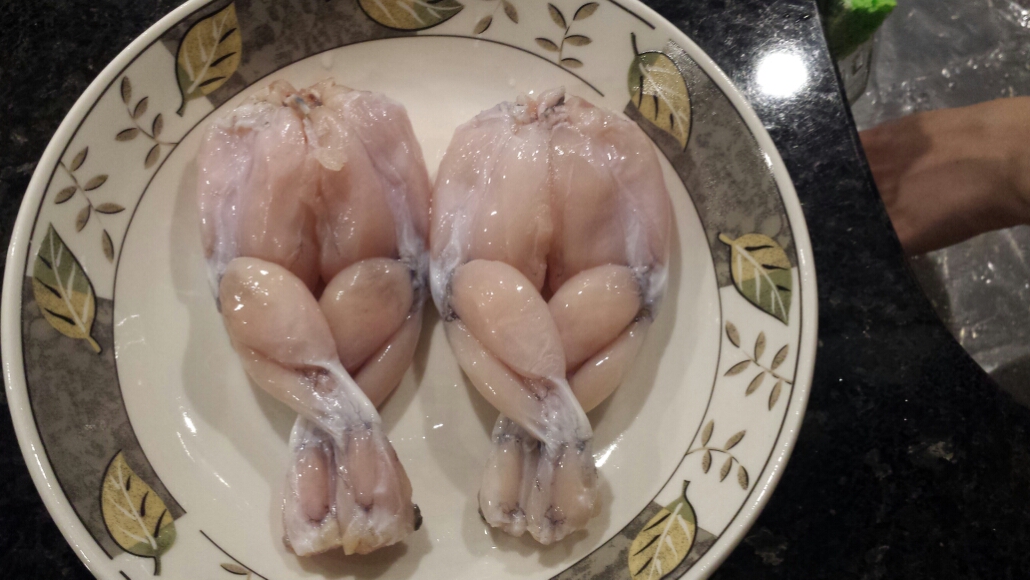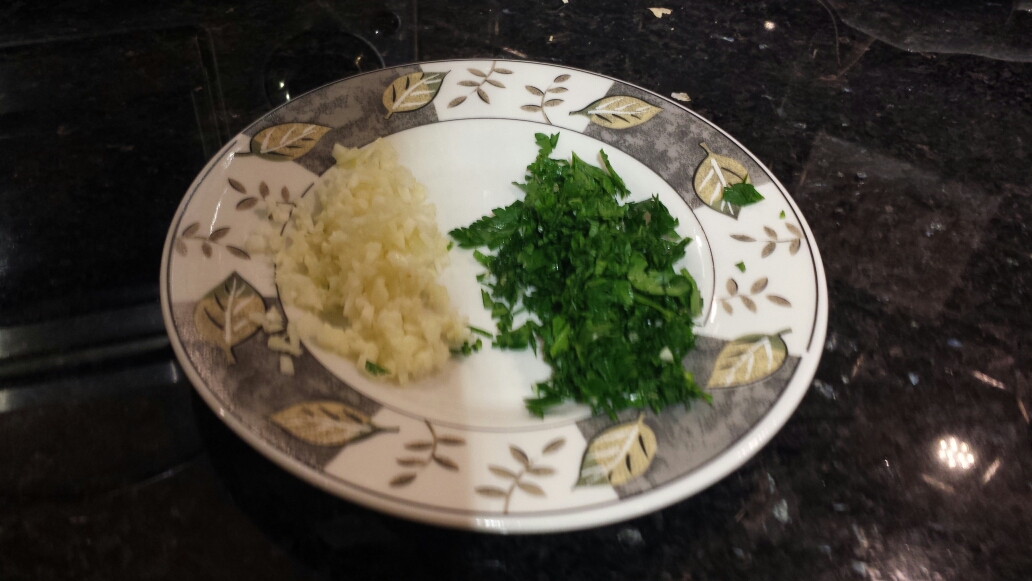 Rinse frog legs and soak in milk for 20-30 minutes. Remove from milk, rinse and pat dry. Season with salt on both sides and let sit a few minutes.
Scoop a few spoons of flour in a bowl, season with salt and a dash of chipotle, if desired. Dust the legs with the flour mixture and shake off excess.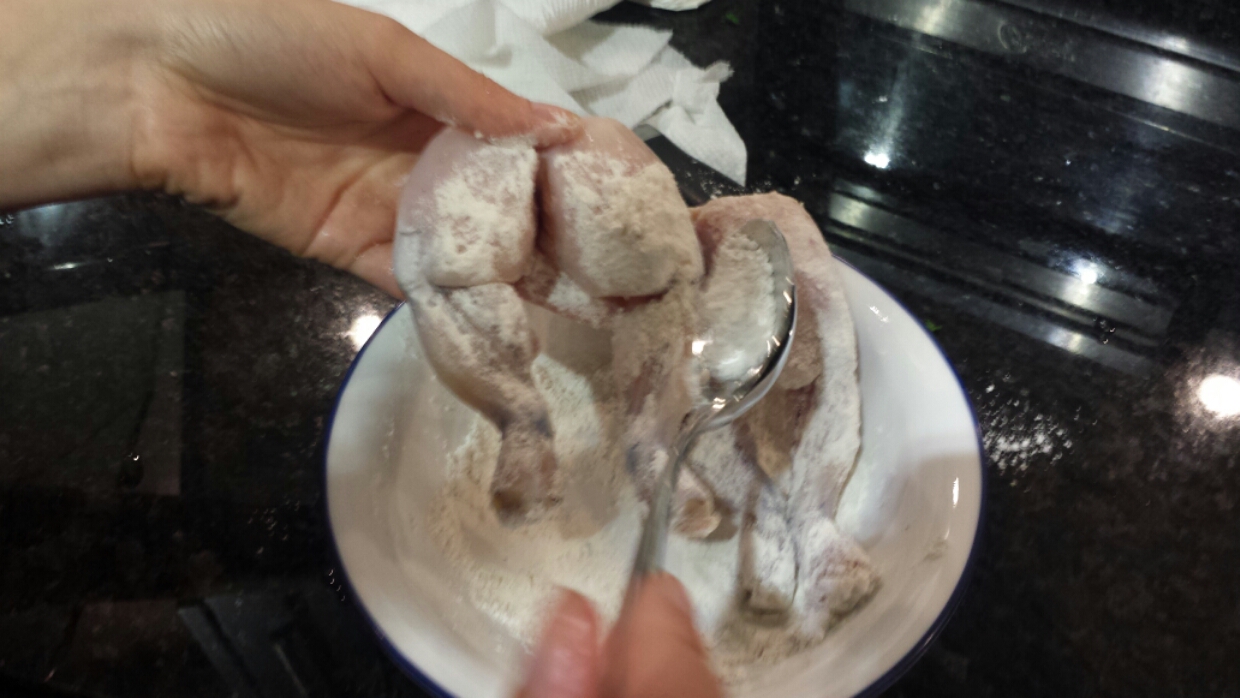 Heat oil in skillet to medium-high heat. Place legs in hot skillet and sear at med-high for a few minutes on each side to develop caramelization.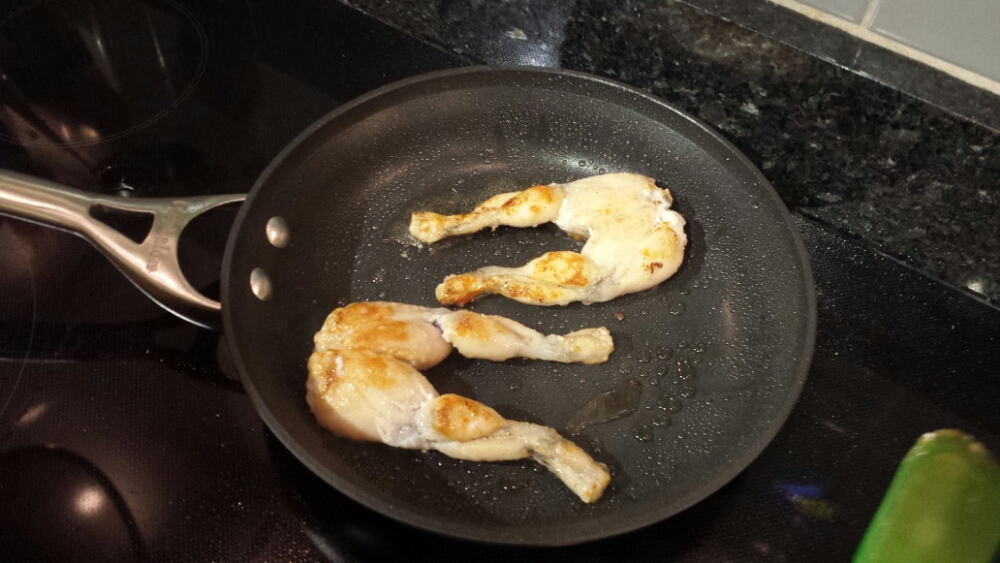 Drop heat to medium-low and cook for a few more minutes until meat starts to pull away from bone. Remove legs onto plate.
Wipe down skillet and add extra virgin olive oil (this is a sauce so you need a fair amount). Add garlic and sautee on low-med heat for a minute or two, do not let garlic brown. Add chopped parsley to pan and salt oil. Sautee a minute more to develop aroma, then pour over prepared frog legs.
Garnish plate with cherry tomatoes. Enjoy your adventure!