About Love 'n Carrots
Let me explain why I named my blog "Love 'n Carrots". Well first of all, because "Love AND Carrots" was already taken as a domain name. Seriously, what is up with that? I thought this was a pretty original phrase, and random one at that! In any case, here we are, with my now resented "'n".
But really? Why carrots? In Russian, there is a cute phrase "lyubov' markov'" (translated literally "carrot love"), which is a sweet, playful, teasing way to refer to love (it is also the title of a mediocre Russian romantic comedy which I don't enthusiastically recommend). The phrase, and my subsequent translation of it, hit a chord with me and everything I ever envisioned for this blog. Cooking, at its core, is about love. Feeding people is, as I recently told my coworker, a subconscious manifestation of my love. And I have quite the reputation to live up to; growing up in a Russian Jewish household where the words "to feed" and "to love" are basically synonymous, especially when it comes to children, this philosophy becomes ingrained in your being. So there we have the "Love" part…
The "Carrots" are a symbol of sorts – a symbol for the pure ingredients that I like to use in my cooking. I will admit I use the odd boxed/prepared ingredient here and there, but I prefer to make everything from scratch. I like knowing what I put into my food, and subsequently into my body and what I am feeding the people I love (there's that word again). It's also coincidental that growing up I could not get enough carrots – carrot salad was just about my all-time favorite food, and to this day, I relish and adore fresh squeezed carrot juice.
So there you have it "Love 'n Carrots", my efforts to share with you, and to chronicle, a legacy of the food I have created in the name of love.
About Me
My guess is it will take me a while to find a following who doesn't already know me, but I figure for those few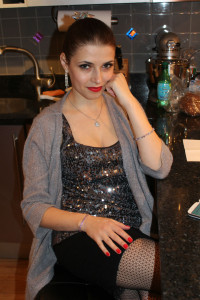 stragglers who venture out to read this and have no clue who I am I'll tell you a bit about myself.
I wear a few hats; by day I am a healthcare strategy consultant – engaging with healthcare experts and leveraging secondary research to solve our clients' (biotech, pharma, med device companies and PE firms) toughest strategic problems. At home, I am a loving wife to an amazing man, who despite being a self-proclaimed non-foodie, who can't distinguish the difference between apple varieties, showers me with compliments on my cooking on a daily basis and inspires me to create more. He is also a dutiful photographer, sous-chef, handyman, and dishwasher. He is particularly amazing at the last one – typically washing a kitchen utensil before I am even done using it!
I used to be a competitive Latin ballroom dancer but a full time job and grown-up life duties have not allowed me the time and dedication that activity requires, but it doesn't mean I don't love to dance at any occasion I get – including in the kitchen!
And finally, to share my life philosophy, which my maid of honor and best friend from college so astutely shared in her lovely wedding speech: Life is about the people you meet and the relationships you form!