Posts Tagged 'Russian'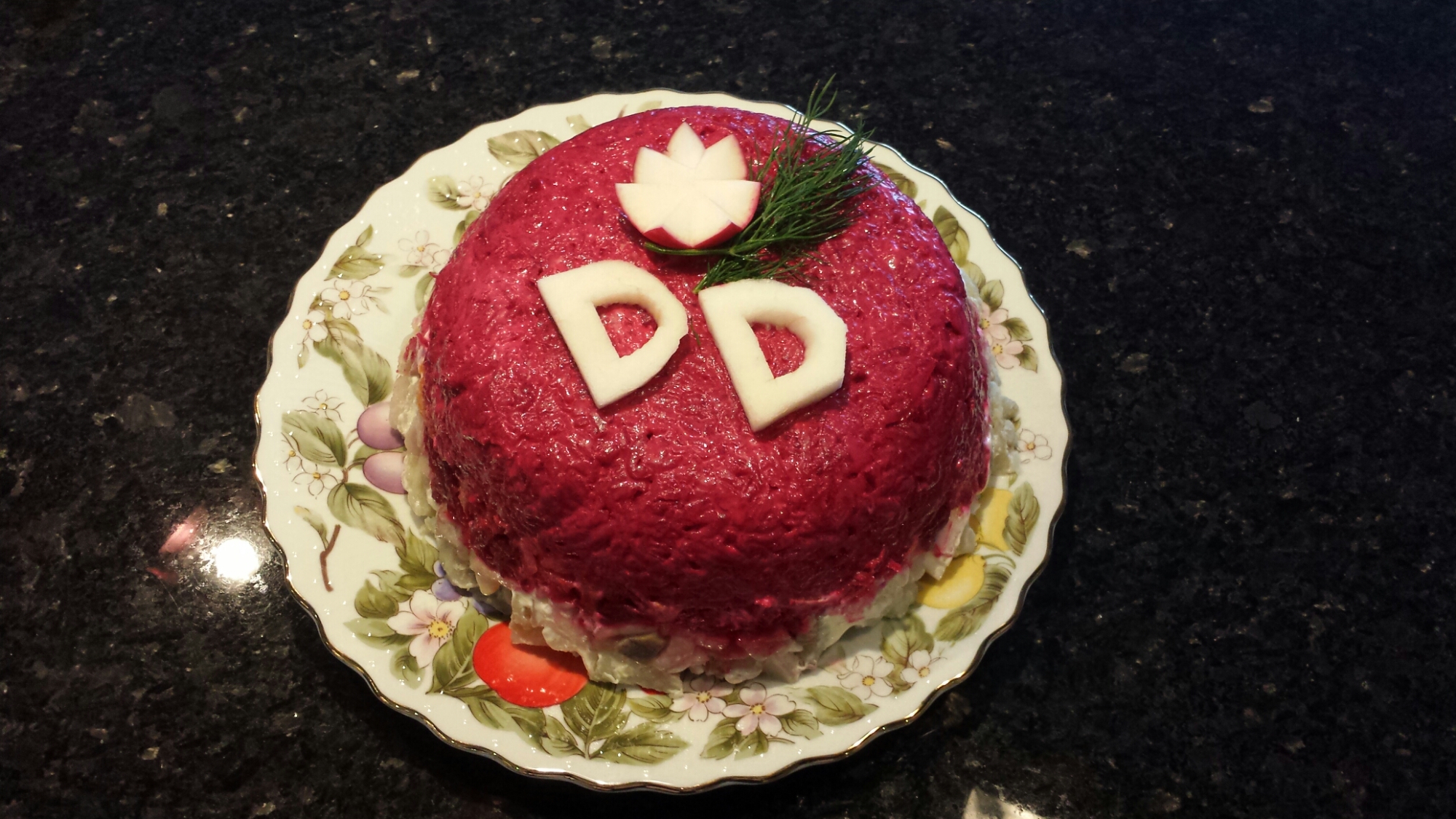 This dish, known in Russian as селёдка под шубой (directly translated as "herring under a fur coat") can only be described as everything that epitomizes Russian cuisine. It is a layered salad of classically Russian ingredients such as beets, carrots, potatoes, and of course – herring. And like most traditional russian salads it is laden with mayonnaise. Mayonnaise has never been a favorite of mine so I try to be light handed with it in this version. While the process is straightforward, it is relatively labor intensive – which is why this dish is typically reserved for the holiday dinner table.
This dish is a favorite of my husband's, and with his birthday approaching we decided it would be the perfect centerpiece to the celebratory table. He also isn't a fan of sweets so it is also a great substitute for a birthday cake.
Blintzes or crepes, known in Russian as "blini", are not only a staple of Russian cuisine, they are also a universal vehicle for filings both sweet and savory – and everything in between. Blintzes stuffed with farmers cheese, with tart cherry, with meat, and even with salmon caviar are frequently eaten at celebrations, and even at home.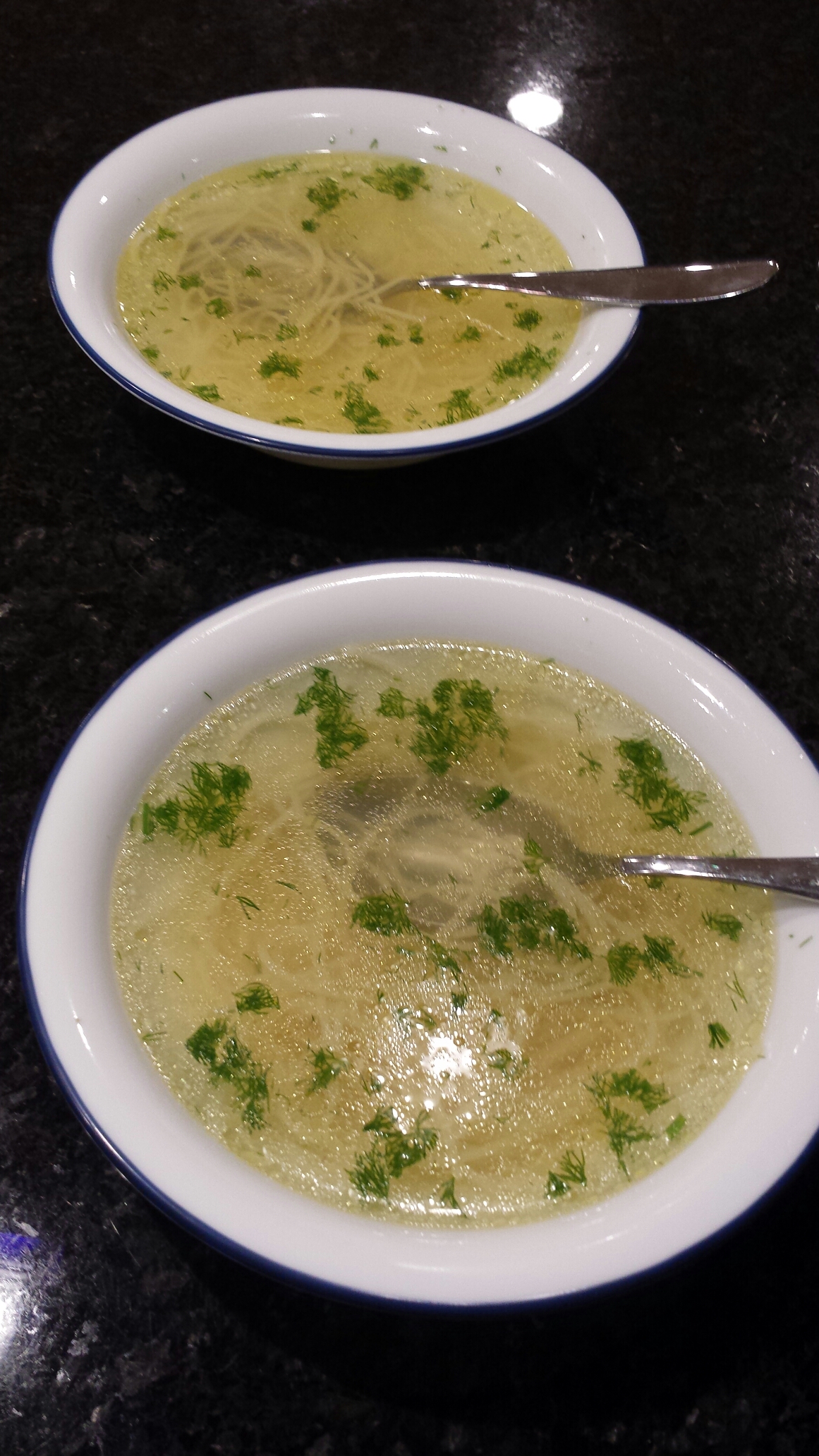 It's that time of year folks – cold and flu season; and unfortunately I am not immune to it. I came down with a nasty cold this past weekend and I knew the one thing I really needed was some chicken broth. For centuries, Jewish (and non-Jewish) mothers everywhere have sworn by this age old cure, and recently scientists discovered that chicken soup does in fact aid in curing the cold and flu viruses.
Let's be clear though, this broth is a staple in our home all year round, not just as cold-fighter. But "Jewish penicillin" is particularly great at curing what ails you. This is the recipe mothers (well, at least my mother) won't let there daughters leave home without. After all, what kind of wife would she have raised if the girl couldn't take care of her nearest and dearest, or even herself when they are sick.
This broth is wonderful on it's own, or as a base for countless soups, matzoh ball not withstanding. I've served it in a traditional Russian style with some vermicelli and garnished with fresh dill (Russians have an inexplicable love affair with dill).
Ingredients:
One whole chicken (~4 lbs)
One medium onion
One whole carrot
Two sticks of celery
Salt
To garnish:
Cooked noodles (vermicelli or angel hair)
Fresh dill
Directions:
Find a large soup pot or dutch oven
Rinse and cut chicken into parts, placing parts in soup pot. Start with cutting off legs and thighs. Then wings. Split chicken carcass in half (by cutting through rib bones). Trim excess fat everywhere and throw out. Rinse inside of chicken. Chickens usually come with a bag of gizzards – rinse the neck and heart and throw in soup pot. Set aside the liver as that will impart a livery-bitterness to your broth. Break the spine side in half and throw in pot. Carve chicken breast off the bone – your choice whether you want to put them in the soup or cook separately. Then throw the breast bone in the pot. The key to great soup is the bones and dark meat – that's where all the flavor comes from.
Fill pot almost to edge with cold water. Add small palmful of salt and put on stove at high heat.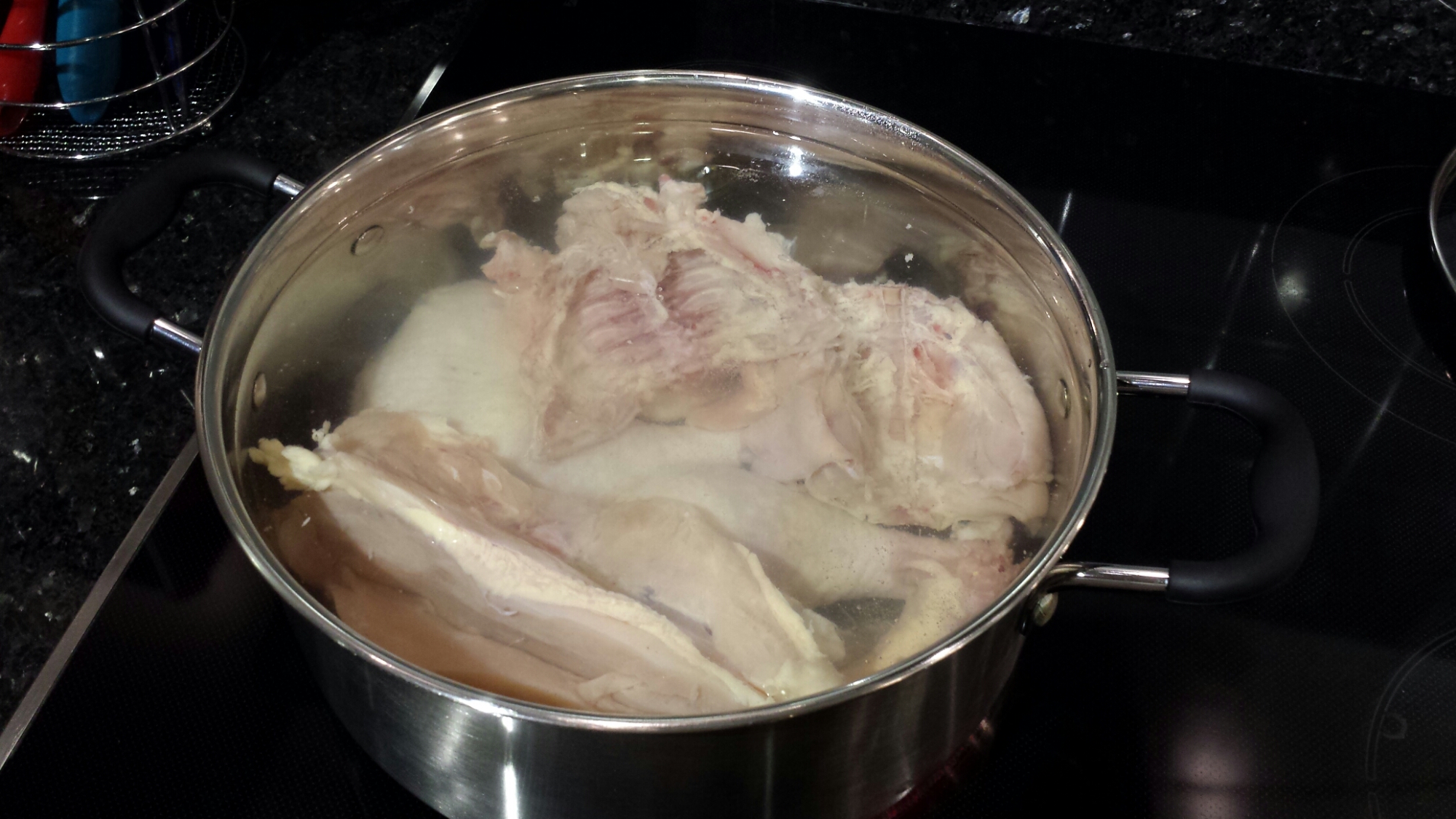 While the water heats, prepare the vegetables. Peel 1 carrot and cut in half. Also halve 2 celery sticks. Peel an onion and score with x on one end to help release flavor.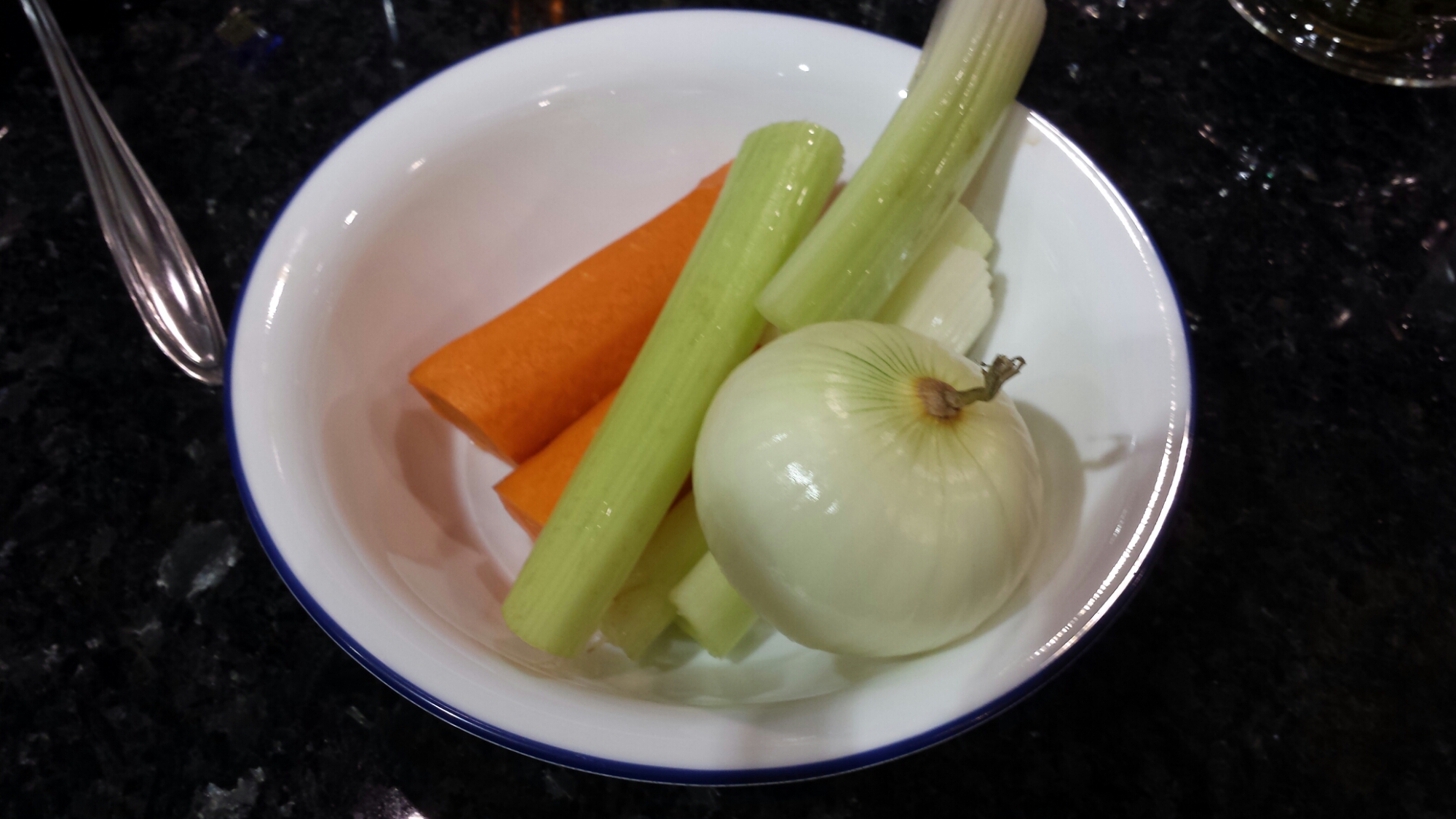 As the soup heats, you should notice foam and impurities rising to the top. Stick a spoon in various places in the soup and gently jiggle to help this process along. In order to have clear broth, it is imperative to thoroughly skim the soup with a slotted spoon or skimmer. You will likely need to do this for at least 15 minutes intermittently.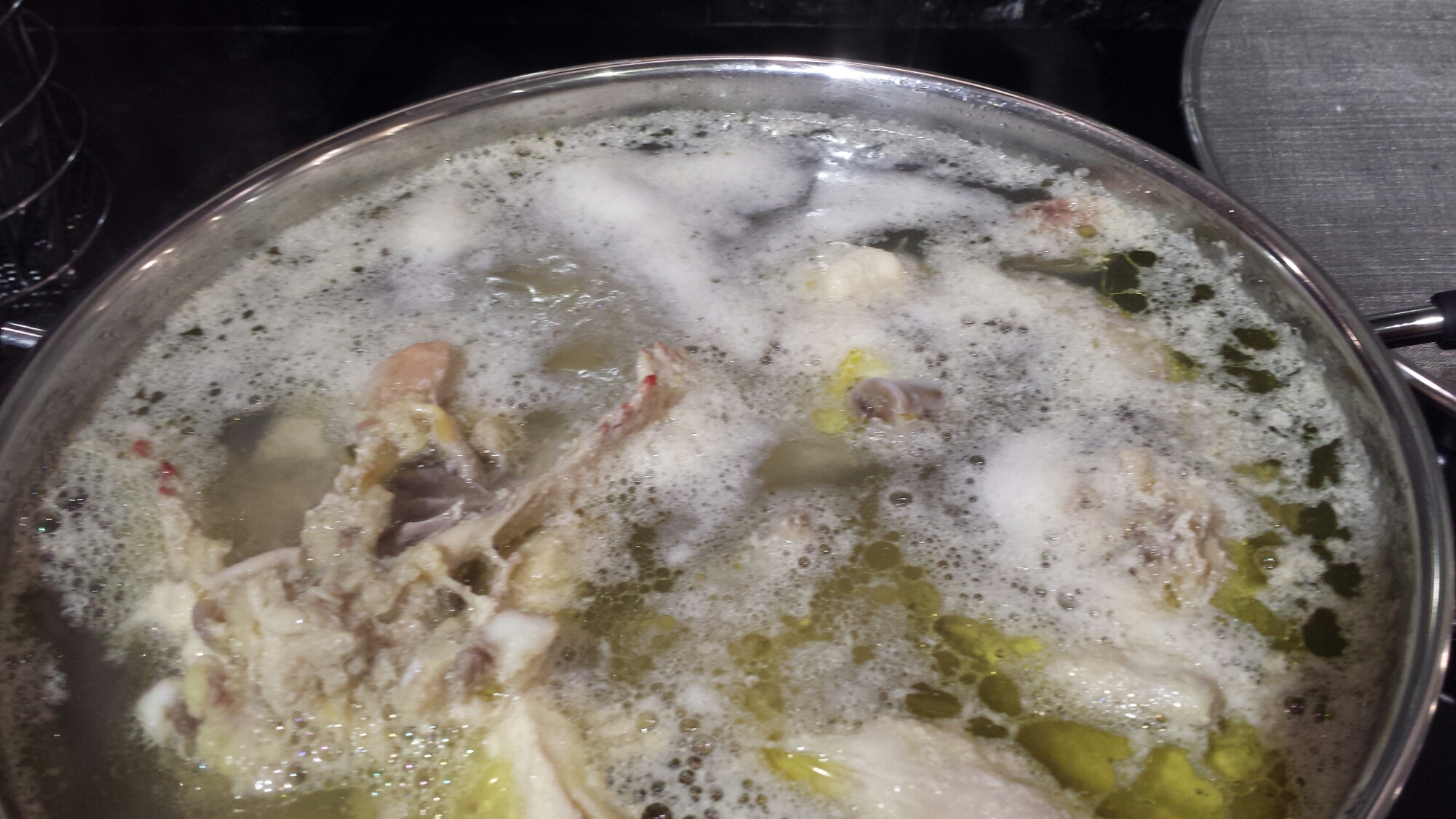 Don't let the soup boil vigorously as the impurities will be mixed into the soup. Once you have finished skimming and soup is boiling, add in all the vegetables and another tablespoon of salt.
Once the soup comes back to a boil, lower temperature and simmer for approximately one hour. Continue to skim if necessary.
Taste broth and season with additional salt if desired. You may notice fat at the top, once soup cools, this will solidify and can be removed.
When cooking is complete you can fish out the onion, celery and carcass and throw out. Some people choose to eat the carrot. You can pick the meat of the bones and serve with soup or use in another dish such as chicken salad.
Enjoy and stay healthy!